About links
About LifeStyleEXPO
About LifeStyleTV
Contact us
Testimonials

What is LifeStyleEXPO?
LifeStyleEXPO is a newly packaged health expo from LifeStyleTV. The concept is to offer people a free "health check up" and to reach people's felt needs where they are.
A LifeStyleEXPO is arranged (3-5 days) at a local shopping center, or similar venue, and offers people free health screenings, tests, information and counseling by professionals on everything from diabetes to weight management.
A LifeStyleEXPO will feature screenings for blood pressure, lung capacity, body-fat analysis, cholesterol, glucose, Harvard step test, Alameda County computerized health-age appraisals and free anti-stress massages.
LifeStyleEXPO is focusing on eight stated main factors related to disease prevention and physical and mental health. These are: nutrition, exercise, water, sun, temperance, air, rest and trust in divine power. Each factor is addressed in detail at the health expo using a combination of colour posters with up-to-date medical information, screening tests and health counseling.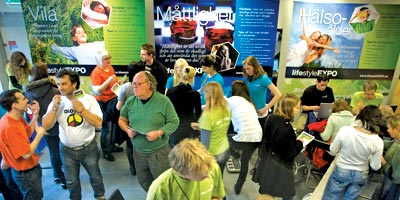 Activities at each station:
Sunlight – Blood pressure test
Nutrition – Cholesterol and glucose test
Air – Lung capacity test
Exercise – Harvard step test
Water – Two glasses of water
Rest – Chair massage
Temperance – Body fat test
Health age – Health age test
Trust – Counseling
1. Nedra Belloc/Lester Breslow: Relationship of Physical Health Status and Health Practices, Preventive Medicine 1, (1972) p. 419.
2. Lisa F Berkman/Lester Breslow: Health and ways of living: the Alameda County study. New York: Oxford University Press, 1983.
"All the volunteers are so helpful, and they don't get paid a penny. I'm very impressed, and found the information professional and useful."
– LifeStyleEXPO visitor